Pacific Business News Expo
August 15, 2013
Hawaii Convention Center, Honolulu, Hawaii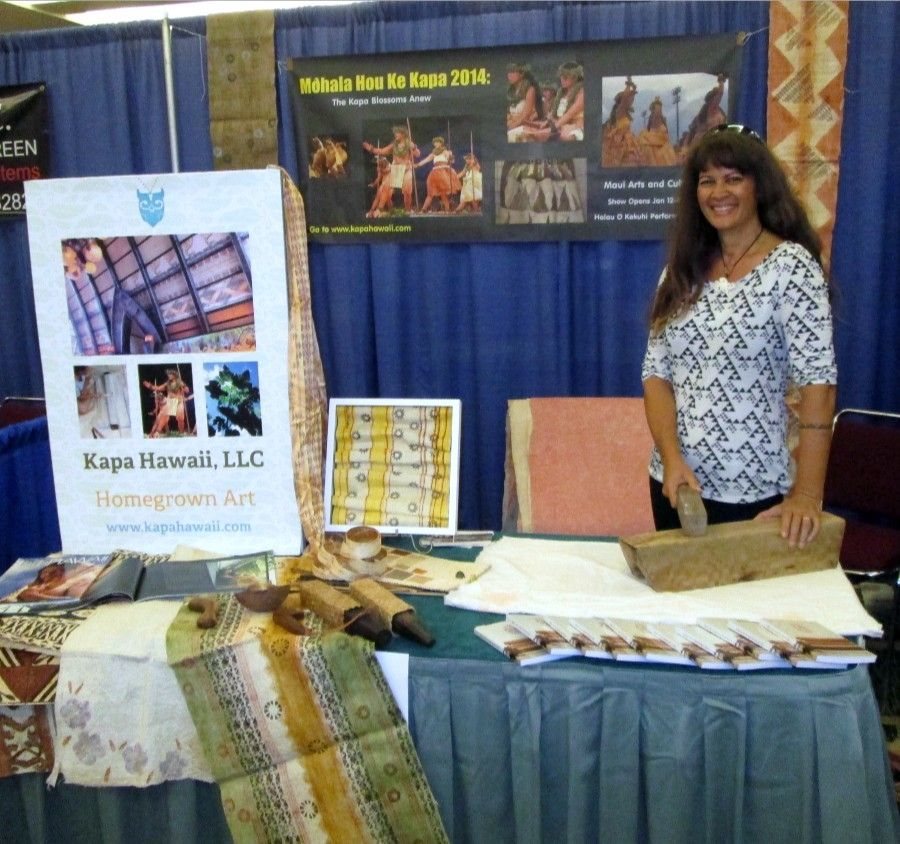 Kapa Hawaii, LLC, is a small business promoting the art of Hawaiian Kapa, a type of textile made from the bark of the paper mulberry tree. This kapa was used as clothing and blankets, taxes, temple dressings and other items that we use fabric for now. Not technically a cloth, but a paper, it was time consuming work and about a hundred years ago, the art was abandoned in Hawaii due to a number of factors including loss of lands, introduction of foreign cloth and changes and upheavals in the native culture.
In the 1970's during a time that the Hawaiian people were reviving some of the lost arts, kapa once again surfaced.
I am happy to be a part of the resurrection of this art.
Not only a practitioner and educator in the art of kapa, I have also created a small business of making and teaching it. I am able to support myself as an artist and one who helps ensure the future survival of this art by sharing it here in Hawaii and abroad.
Although the arts in general is a difficult business to launch and be consistently successful in , I have been fortunate to have been able to call Kapa Making and Teaching my sole means of support for the past 2 years.
In a place like Hawaii, one of the most isolated places on the planet, it would seem that options for expansion would be limited. With the internet and global reach however, the odds for success and development seem endless. However, even on a small island the ability to reach out and connect with other small business can be very mutually beneficial.
Although not a Business Major by any stretch of the imagination, I try to look for opportunities to network and learn more about running a business. One such opportunity was by participating in the 1st Annual Pacific Business News Small Business Growth Expo at the Hawaii Convention Center. Not only was it a great chance to meet companies who help small business by providing various services, but it was exciting to meet people who were excited to see the Kapa, learn about how it was made and how it was used and learn a few things about Hawaiian culture as seen through kapa eyes.
Some people discussed different ideas about how to market and showcase kapa and kapa imagery. One young man, a gemologist trained by the famed craftsmen of Van Cleef and Arpels Jewelers, even asked if I had ever thought of designing jewelry using kapa motifs. "Well, not really", I said, but I could see that his mind was already envisioning something exciting so we agreed to meet soon and discuss his ideas.
I very much enjoyed being at this expo and look forward to doing more networking events in the future where I can share what I do know and learn from others what I don't.
Sub Commander's Kapa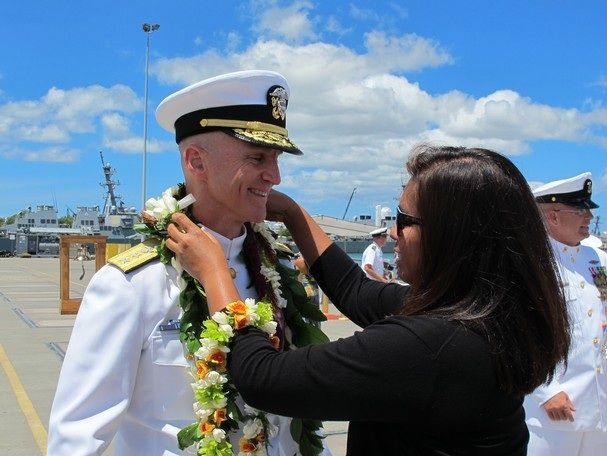 In the past few years, I've been privileged to make kapa for some rather notable people, including the much loved Hawaiian singer and Kumu Hula Kealii Reichel and his Holiness the Dalai Lama during his visit to Hawaii. Recently I was able to create a Kapa for another noteworthy person, Rear Admiral James F Caldwell Jr., ComSubPac or Commander, Submarine Force, U.S. Pacific Fleet. (COMSUBPAC) is the principal advisor to the Commander, United States Pacific Fleet (COMPACFLT) for submarine matters. The Pacific Submarine Force (SUBPAC) includes attack, ballistic missile and auxiliary submarines, submarine tenders, floating submarine docks, deep submergence vehicles and submarine rescue vehicles throughout the Pacific.
So how did a Submarine Commander end up getting a Kapa malo(loincloth)?
Last Christmas I was invited to do a Kapa making demonstration and activity and a party that the Commander and his lovely wife Kim host at their house on Ford Island, Pearl Harbour. As it happened, the couple became quite enamoured of the Kapa and Kim made it her own secret mission to buy some kapa for her husband who would be changing command in August 2013 and receiving a new commission in Washington DC.
I was commissioned to create a 12 ft by 1 ft Kapa malo, which I made from 2 12 foot trees that I grew.
On the day of the Commanders change of command, he received his kapa malo and was quite astounded and pleased to have it as a gift. The Kapa itself was decorated with motifs that were meant for Commander Caldwell and had to do with his family's four generations of naval military service.
Although the Caldwell had to leave Hawaii, they take with them many fond memories of people, places and events that will always remind them of a place they grew to love dearly, including a very special Kapa malo.